Blue Jasmine (2013)
Writer / Director: Woody Allen
Cast: Cate Blanchett, Alec Baldwin, Sally Hawkins, Bobby Cannavale, Andrew Dice Clay, Louis C.K., Peter Sarsgaard, Michael Stuhlbarg, Tammy Blanchard
Time: 98 min.
Rating: PG-13

Jasmine (Cate Blanchett) was once one of the beautiful people. Married to Hal (Alec Baldwin), whose business dealings were far too complicated for Jasmine to take an interest in, she would simply sign where he told her to and enjoy the benefits of his astute financial mind. The beach house in the Hamptons, the vast Manhattan apartment, the parties, the benefits, the like-minded friends. She was self-assured, loved, pampered and seemingly secure. That is until, first, there was far too much evidence of Hal's sexual dallances for Jasmine to continue to ignore, and, second, Hal was arrested and imprisoned for illegal financial dealings. Jasmine herself only barely escaped jail time as well by being stripped of all her wealth.
Jasmine is now forced to move in with her sister (not biological; both daughters were adopted) and try to deal with her fall from grace as gracefully as possible. The constant flashbacks to her former life shows how difficult it is for her to let go of the old lifestyle which she constantly compares to her new
indignity; she now temporarily lives at 305 South Van Ness Ave., San Francisco, with Ginger (Sally Hawkins) -- who readily admits she doesn't have the 'good genes' her sister Jasmine has -- and her two annoying sons. Not to be dismissed is Ginger's boyfriend Chili (Bobby Cannavale), who resents Jasmine moving in just when he was about to himself.
First of all, it's great getting Woody Allen's perspective on San Francisco. I'm sure all Bay Area audiences will feel a bit insulted by his view that going from the Sound to the Bay is a step down, though he did find a few spots in Tiburon equally classy. Otherwise, Chinatown, Crissy Field and The Ramp restaurant along Mission Rock at 16th Street were backdrops for the more pleblian tastes.
Now, this is not just a woman's movie, it's a change-of-life woman's movie, not only because of Jasmine's age (mid-40's which Blanchett unflinchingly and more than honestly reveals), but also because of the cataclysmic changes in her long-comfortable life. Jasmine always felt privileged, even before marrying Hal, but that only added to the problems of her adjusting to her penniless, friendless, unemployed, almost unemployable and highly stressed new persona. Jasmine is having a nervous breakdown, but she still has to function -- deal with her own situation, deal with her relationship with her sister, deal with men as a newly single woman.
Blanchett's performance is riveting, and even though Jasmine is essentially an unsympathetic character, we all want to help her, suggest options, stop her from making terrible mistakes, want her to succeed. Kudos to Blanchett for pulling it off. And though I resent that Allen only offers men as the solution to her problems rather than her own inner resources, I can certainly understand it in this situation. Jasmine never had to develop or rely on her own resources, and she just doesn't know how, even though she tries.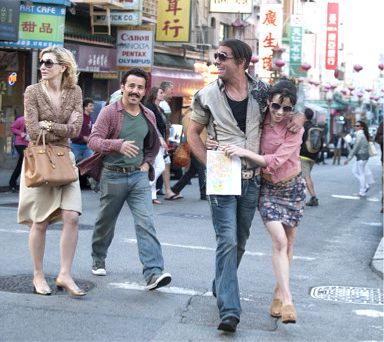 Jasmine (Blanchett) on a double date with sister Ginger
(Sally Hawkins), her boyfriend Chili (Bobby Cannavale) and set up Eddie (Max Casella) in San Francisco's Chinatown.
But most interesting to me is 'the tragic flaw in her character that made her the instrument of her own demise,' which Allen refers to as something other than her habit of looking the other way or her inability to deal with her new situation. It is well worth the wait to find out near the end of the film what this flaw is and how it brought about her downfall from grace.
I was involved, concerned and trapped in Jasmine's predicament from her first obnoxious appearance in first class accommodations to her last moment sitting on a bench in South Park, 'trapped and lost and alone,' as Blanchett herself describes her. There but for fortune, a cautionary tale to us all.