Lazlo's Closet posted a kind of fun rundown of Birdemic when the DVD came out through Nguyen's site since no distributor would touch it. He nicely skirts the issue of the quality of the film or review of any kind, but instead displays a series of posters he would have preferred for the film and it's proposed sequels. Great fun. (Irrationally, Nguyen thinks this is a serious suggestion and is now in pre-production on the sequel.) Here is the actual Birdemic review by Lazlo. You can read the whole stinking tragedy scene by scene, with drawings, thereby avoiding the awful mistake of buying it online. Thanks, Lazlo.
And here's a blog from Lazlo's Closet. This describes James' distribution efforts, trying to get out of paying his bar tab, giving a potential distributor a trailer instead of the film (didn't know he's supposed to bring copies of his film to a festival for distributors, or didn't think they deserved it for the $15 bar tab they covered for him). Actually, this article is kind to him. Just in case the blog disappears over time, I'll reproduce most of it here:
Furze, a good friend of Lazlo's Closet took the trip to Sundance this year searching for licensing opportunities for the studio he works for; and while walking up the strip, couldn't help but notice a mini van covered in blood and bird parts slowly rolling up and down the street. An Asian man was driving while the sounds of many screeching angry birds blasted from the mini van's speakers. On the side door was a sign with the ominous title to the film he was promoting, BIRDEMIC Shock and Terror.
Furze being a purveyor of the strange, I'm sure felt an immediate draw to see what this guy was about so he made a point to get himself to his screening which was that night at a small Bar which was dressed up for the screening with a really bad stuffed Eagle perched on the bar with wings spread as if waiting to strike. The man driving the van was there; Director James Nguyen, owner of Moviehead Productions and self proclaimed "Master of Romantic Thrillers (TM)". He was very happy to see Evan and the few friends he convinced to go along to see the film, He welcomed them and the screening had begun... I believe there were like 7 people including Mr. Nguyen at the screening which can't be much of a morale booster but Mr. Nguyen seemed unfazed by the low turnout.
Birdemic is probably what Lazlo's Closet would consider "Pure Cinema (TM)" an original idea like this comes once every few decades or so. In the film an insane number of Vultures, Eagles, Seagulls, and probably sparrows get crazy and for who knows what reason attacks a small coastal California town... hmmmmm... Well anyway, after two hours of wooden performances and CGI effects from 1991, Evan and crew were ready to pack it in, but the Master of Romantic Thrillers (TM) would hear nothing of it. He offered them drinks and they chatted for a while about the film, but when it came time to pay the bar tab Mr. Nguyen came up short. He motioned to the bartender that he would be right back with the $15 he owed and attempted to pick up his bird and leave. The bartender quickly grabbed up the stuffed eagle and said he would hold onto it until he came back with the cash.
Nguyen left the bar and after a few minutes Furze and friends were leaving as well. There they saw the Director looking upset and a bit worried, so they offered to pay his bar tab in exchange for a copy of the movie. Nguyen said he only had one copy of the film with him... "You came to the Sundance Film Festival with only ONE copy of your movie? You don't have any burned copies in your bag?" one of the friends asked. Nguyen suddenly remembered that he had a copy in his bag. He rushed to his Blood and Bird part spattered van and brought them a disc with the word "Birdemic" written on it in red sharpie. Money was exchanged for the disc, The master of Romantic Thrillers (TM) was able to pay his bar tab and reclaim his bird, and Furze and his crew were already making plans for the next night to screen Birdemic with friends in their hotel room.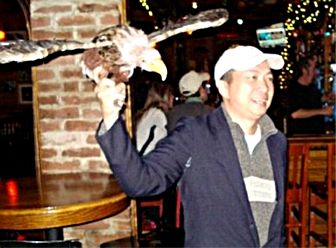 James at Park City, not in Sundance;
and not welcome back at this bar.
Did the bird nip at his armpit?
Much to their dismay... After getting some twenty or so people into their hotel room, over three times what Nguyen had seated in the screening, all with PBR's in hand waiting to see the much talked up "Hitchcockian" Romantic Thriller. They popped the disc in their player only to see the Trailer for the film and then nothing... He had duped them into paying his bar tab and gave them only a movie trailer for their troubles. Or maybe it was an honest mistake, who can say? Though as far as track records go... a few potentially slanderous you tube warnings about said Director concerning non-payments and sexual harassment allegations make a case for the guys holding the PBR's.
So, now having a personal interest in this film, Lazlo's closet is working on getting a full copy of the film so we can be the first to give it a proper review. Why do you ask? Well we don't want to be like the bloggers who turned down reviewing SAW before it became popular and spawned all those sequels. If we get in on the ground floor of this Mega-Franchise waiting to happen we will be able to say we were fans long before all those sequels came, like Birdemic II - Birdtopia, Bridemic III: 3-D, Birdemic IV: Birdokalypse, Birdemic V: The New Hatch...